October Highlights
Seasonal Florals
---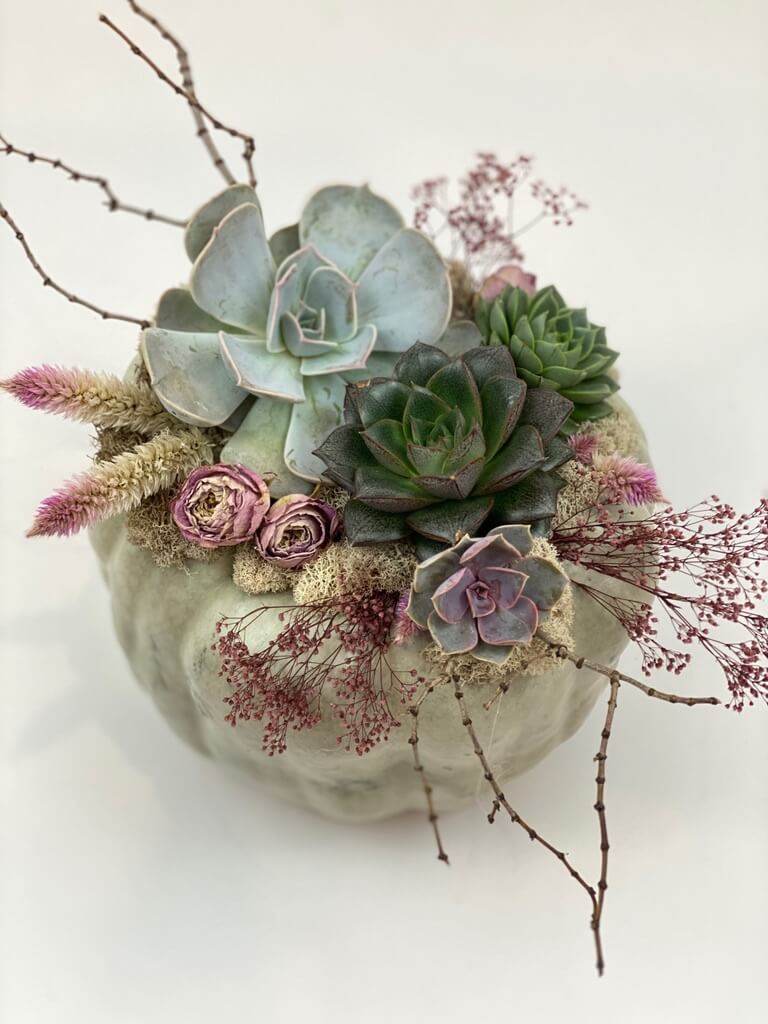 We are combining fresh designer pumpkins with succulents and dried botanicals. This is a great way to dress a fall table. The flowers and succulents are adhered to the top of the pumpkin so there was no carving needed. As long as your pumpkin doesn't have any damages or punctures to the skin you should be good for a while using these as decorations.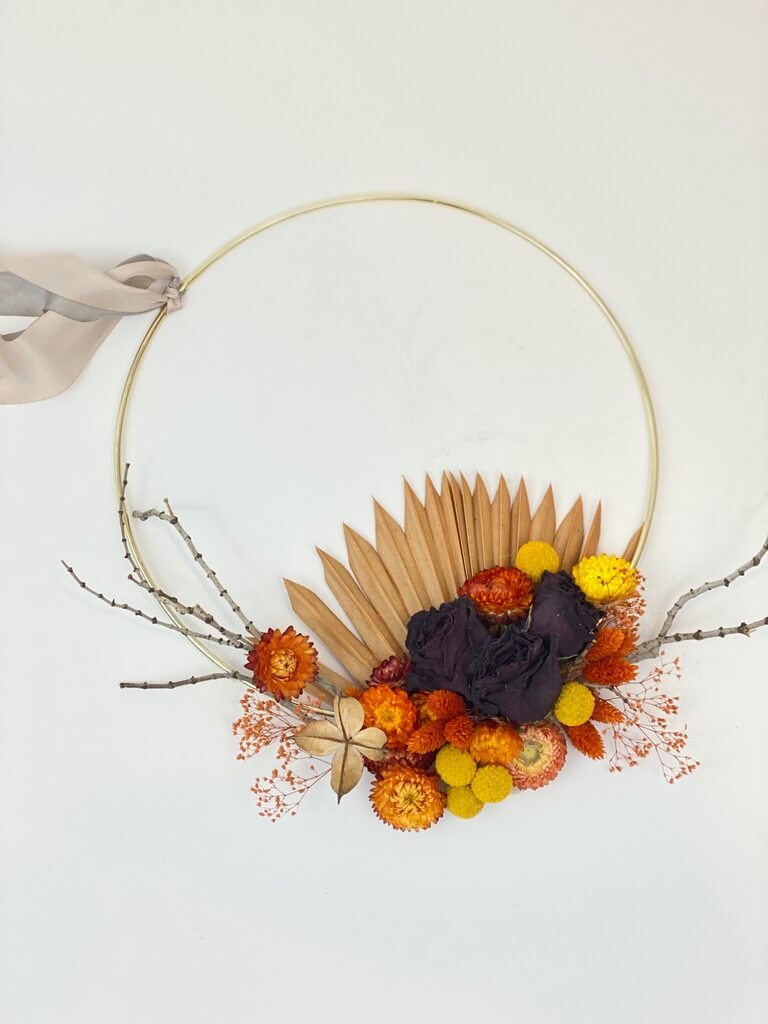 This dried botanical wall hanging is in our half moon hoop collection. These are designed on a 12" metal hoop that is gold plated in color. Our wish is for these to bring a bit of warmth and light to your home. They come with a length of neutral toned silk ribbon that can be used to hang it on your wall or you can nestle it on a mantle or shelf among your photos and additional fall decorations. (Like our pumpkins!)
Our elopement flower pick up option is still going strong. Even with the rain coming more often, we've got weddings on our mind. Regardless of the weather, our couples are rocking whatever life throws at them. If you had to cancel your wedding due to Covid, or if you have postponed without a clear picture of when you can celebrate again and you still want to get married...Give us a call or email and let's chat about how you can arrange to pick up a few items such as bouquet, boutonnieres, corsages, flower crowns and we will make it happen.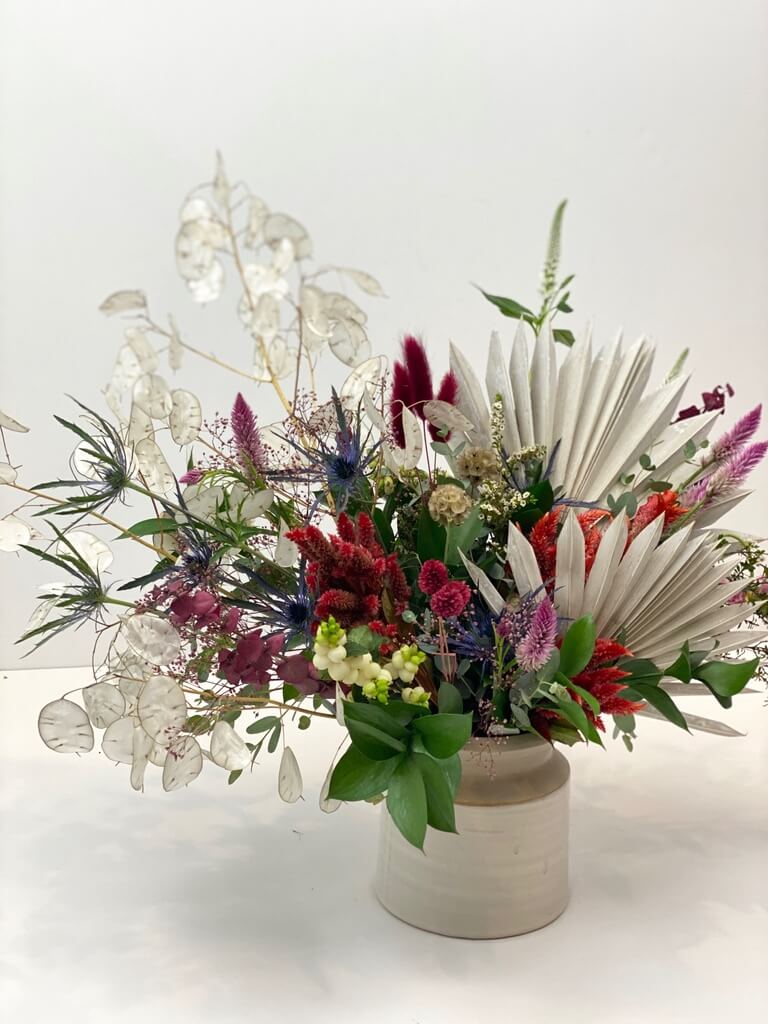 The photo above is aptly named "Gimme Texture". We have combined fresh flowers and foliage with dried botanical items such as palm leaves, lunaria, bunny tail and preserved eucalyptus. These long lasting florals can be re-used once the fresh items have expired. Be sure to clean out your vase first and you can use it to hold the dried elements that came in the original design. If you need more fresh flowers and greenery to add to it you can stop by our Fremont shop and pick some up. Or if you prefer delivery order our "Bundle of Blooms" or "Autumn Bundle" selection and you can have a little DIY project. Try it out!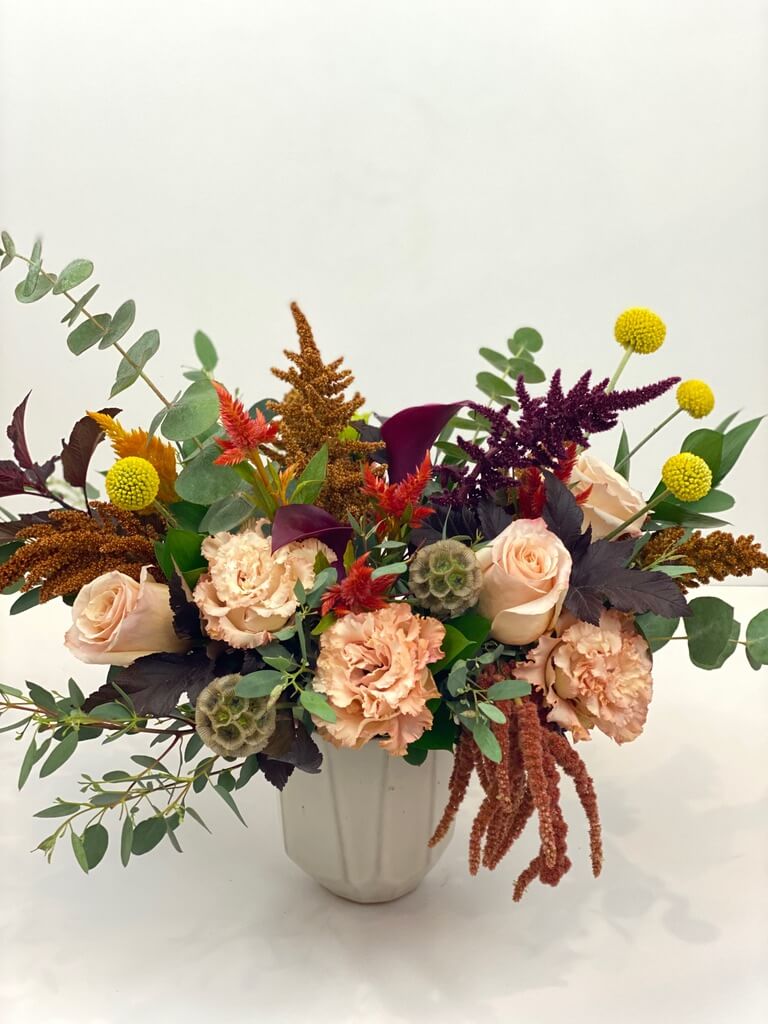 Bringing a fresh crisp scent of eucalyptus, Amber Sky speaks to the golden rusty hues of fall. We add in a hint of blush peach and burgundy for a purely seasonal design. Our geo vase finishes this look and it pairs well with a rose, cabernet or sparkling seltzer. Set your table and pour yourself a glass...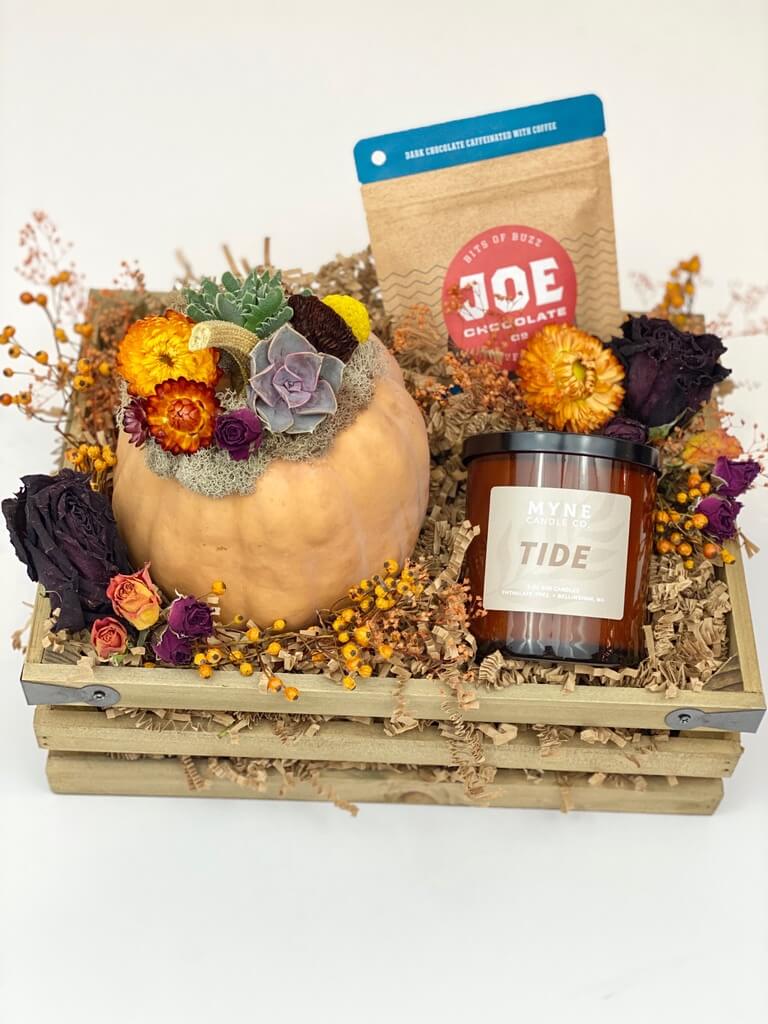 Send a fun gift to someone with our Trick or Treat Gift Crate. Ok, there aren't actually any tricks to it.....We'll include one of our decorated pumpkins, a lovely scented candle from Myne Candle Company and a package of Joe's Chocolates in salted caramel flavor. Actually, maybe the trick is the fact that the chocolates contain caffeine and have a bit of a kick to them! Happy Halloween!
REMEMBER TO CHECK BACK AGAIN IN A FEW WEEKS FOR OUR NOVEMBER HIGHLIGHTS ~ we'll be talking about Thanksgiving and all the ways we can bring family and friends closer through flowers, centerpieces and our gift items.
Be Well, Stay Healthy
---