Garden Party
Events & Weddings
---
Garden Party!
We transformed the small lower patio area of BluWater Bistro on Leschi into a colorful garden party!
To utilize both fresh and faux items for this floral border was the most budget and time conscious way to draw attention away from the parking lot behind.
We used one of our artificial greenery panels measuring at 8 feet lengthwise as a base for inserting fresh roses, carnations and peonies. This area turned out to be perfect for placing some soft seating and a low table.
Generously filled with bright peonies, roses, anemones, and ranunculus; the floral arrangements were placed on every low table, buffet area and planter ledge.
The trend of Photo Booth, Selfie Station, Step and Repeat area isn't going away anytime soon and we are so happy about that! There are so many ways to create a fun area to gather for photo ops. We enlisted the help of the fabulous Confetë Party to create a balloon garland around one of our artificial greenery wall backdrops. The client supplied the Good Vibes Only sign which we painted white and attached to the wall. Also supplied by the client was the grouping of color coordinated pillows which were perfect to add drama pops and comfortable intimacy turning this soirée into a casual garden party!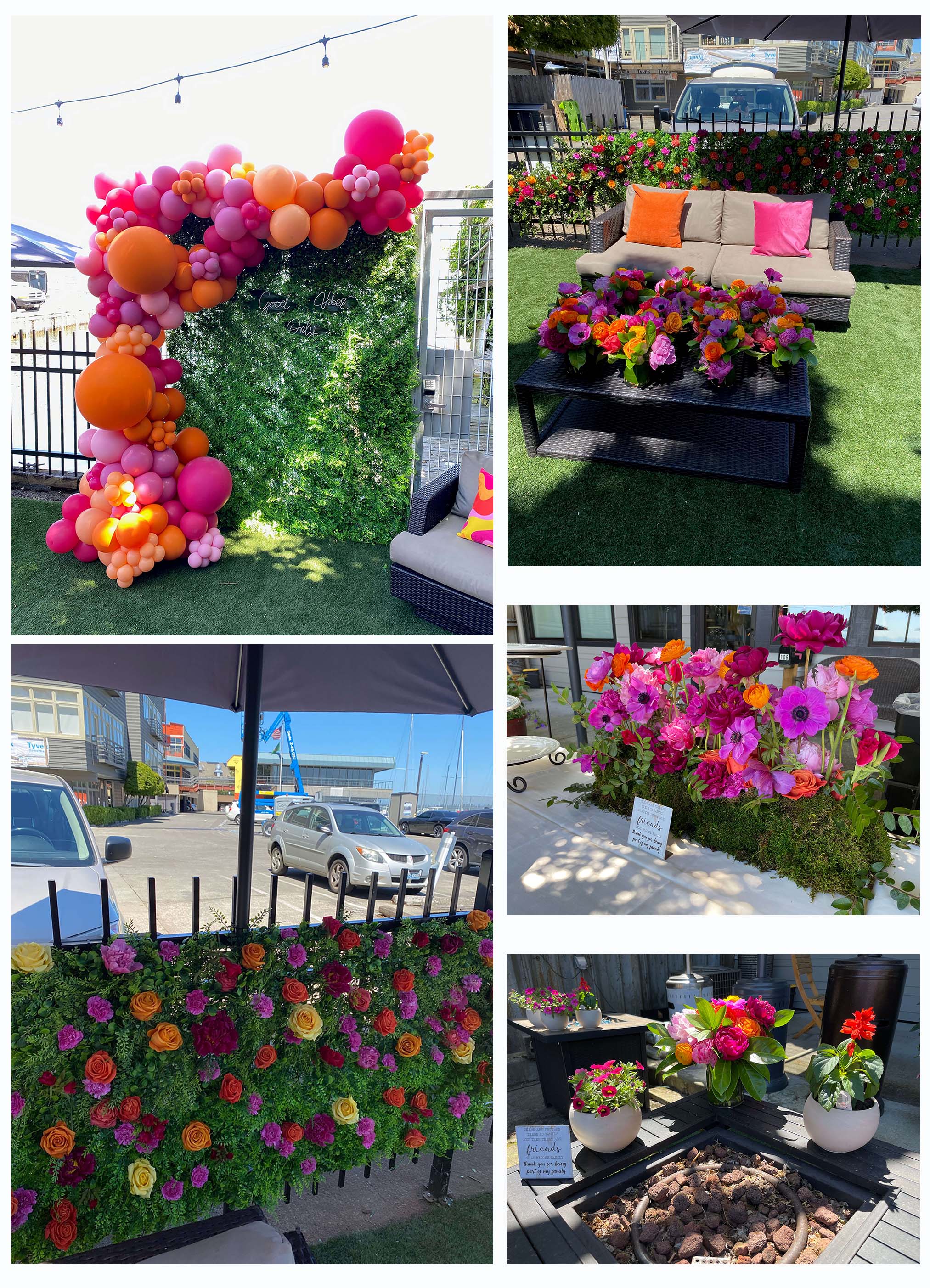 For more information about elevating your event, contact us via email at info@juniperflowers.com or fill out the contact form on our website, access the link HERE
FLOWERS USED: peonies, roses, carnations, ranunculus, anemones
DECOR ELEMENTS: faux greenery backdrop, railing floral installation, accent florals, potted plants, buffet floral, bar floral
VENUE: BluWater Bistro, Leschi
BALLOON GARLAND: Confetë Party
FLOWERS: us! Juniper Flowers
---