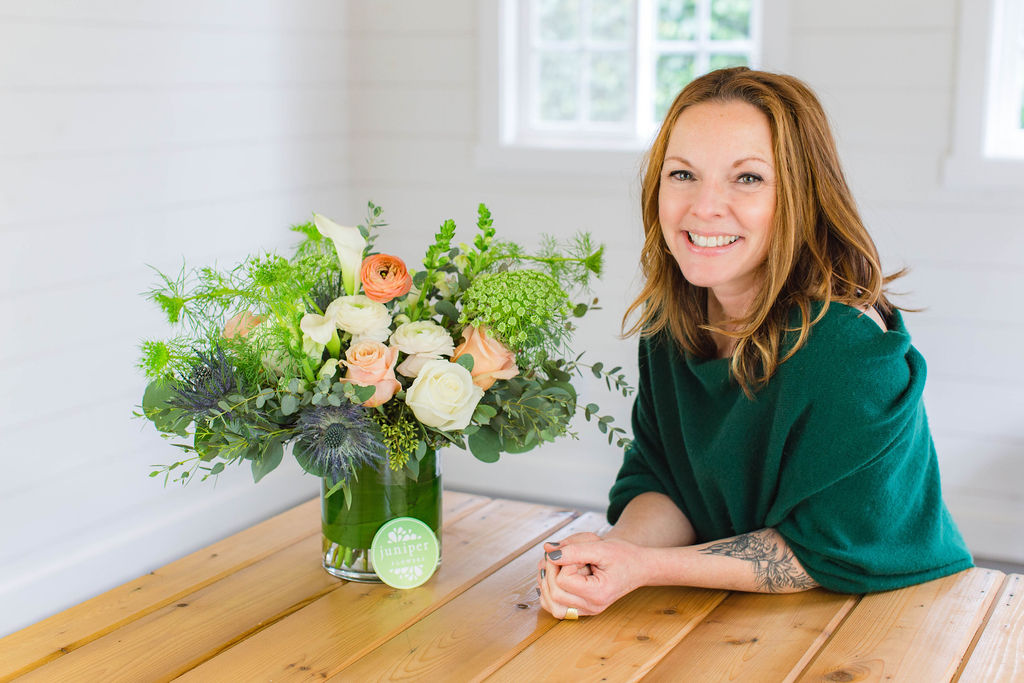 Meet the Founder & Creative Director
Juniper Flowers was founded in 2003 with the main principle to enhance and enliven the hearts, homes and businesses of people in our area. Our mission is to create tangible products to reflect memories of a moment in time; easing someone's pain, welcoming new life, mourning lives lost, celebrating milestones and holidays. We combine design concepts such as color, texture and depth with unique blooms to create inspiring and beautiful floral art.
Thank goodness for flowers and dreams and their ability to spread hope.

Founder, Jean Louise Paquin Allen has 29 years of experience in the floral industry. Prior to opening Juniper Flowers, she worked as a freelance designer. While this allowed her to work on premier events in Boston, New York and Seattle, it couldn't compare to her own storefront. Jean Louise's experience equipped her to open Juniper Flowers, where her team happily arranges flowers everyday.
From Jean Louise
Flowers are part of my soul. My earliest childhood flower memory is of my Uncle's overgrown backyard- unkempt and weedy- but I saw beauty in its natural form. From wheat-like grasses glowing as their stalks grew into delicate billowy cattail poofs with opaque tufts, to the amber and brassy field ~ I imagined what flowers would dare grow here.
One of my favorite parts of being a floral designer is seeing the emotion of the recipient. Be it someone celebrating a birthday or someone on their wedding day- we are allowed to translate that emotion through flowers to impact another person's life. What a meaningful and rewarding gift to give someone!
I invite you into our little flower world, all are welcome.